Why Failure Doesn't Mean You Have To Give Up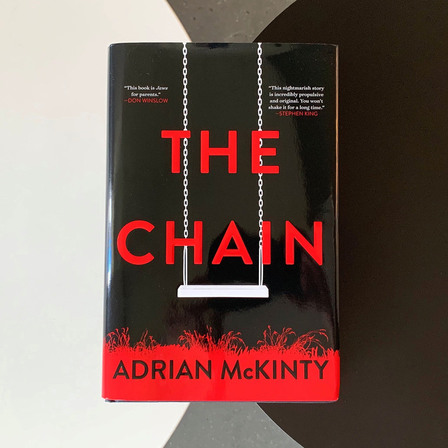 Why Failure Doesn't Mean You Have To Give Up
By Mark Wager
This week I want to share with you the story of Adrian McKinty. If you are wondering who he is, that's fine because not many people have heard his story which is very relevant to many people at this particular time. The coronavirus pandemic has detrimentally impacted the business world with many businesses being forced to close. I personally know several businesses that prior to the pandemic were talking about expansion plans but now afterwards are talking about closing their doors to new business. Dealing with failure is difficult at any time but when failure comes despite hours and hours of hard work and commitment, it can be demoralising and it's understandable if your natural reaction is to give up which is why I what to share the story of Adrian McKinty.
Adrian McKinty is an Author, born in Northern Ireland. He won a scholarship to study politics and philosophy at the University of Oxford. After graduating, Adrian found himself in a various jobs ranging from a security guard to librarian to rugby coach, but his true passion was writing and in particular fiction. I've coached several writers and I know just how very difficult and competitive the industry is but Adrian managed to have several books published all of which received critical acclaim and won awards but the positive reviews never translated into sales and he found himself in the position of not being able to provide for his wife and two children. This meant that in addition to writing he took on extra jobs in construction as well as being an Uber driver. Despite the financial struggles he didn't give up and he continued to believe in his ability to write yet despite all his hard work, the success he wanted never came and it was only when he was evicted from his home that he decided to quit.
After quitting Adrian wrote a fan letter to the crime novelist Don Winslow sharing his frustrations about not making it as an Author. Upon hearing his story Don Winslow put Adrian in contact with his agent Shane Salerno who persuaded him to write one last novel. He even received an advance so he could give up his Uber Job and try one last time. The novel was called "The Chain" and has gone on to become a bestseller in over twenty countries and just this week Universal pictures has signed a seven figure deal to turn "The Chain" into a movie directed by Edgar Wright who previously directed Baby Driver, Shaun of the Dead and many other successful movies.
I wanted to share the story of Adrian McKinty because there are many people who are currently in the situation now that he found himself in. They may not necessarily be Authors but they are people who have been working incredibly hard to make their dreams come true. They have been achieving a good level of success and received a lot of positive feedback but despite their belief on their own ability they are facing the reality that being good is not good enough and they are seriously thinking about quitting but maybe instead they should be thinking about giving it one last try, avoid a life of regret and give it their best shot.
It's a good idea to reach out and seek advice just like Adrian McKinty did. In fact every week I personally receive emails from people who want some career advice including people who want to become professional coaches and I always reply. I do so because I know that sometimes the only thing separating a person from success is a moment of kindness. Don Winslow is a successful Author. He didn't have to reply to the letter that Adrian sent him but if he hadn't then Adrian's story would be very different and instead of being a successful Author whose book is being turned in a movie, the world would not have known his talent. So if you find yourself in a position where other people approach you for advice then be kind. Hold out your hand and be willing to pull someone over the obstacle in their way and if you are that person facing the obstacle then remember it's okay to reach out. Don't allow all your hard work to go to waste. People are more willing to help than you realise.
We are at the start of a global economic recession and times are tough but it doesn't mean we have to stop dreaming whether the dream is to be an Author, an Entrepreneur, a professional coach or whatever we have a passion for. Our passion gives us a reason to get up in the morning and to make life worth living. It's not something that should be discarded so easily. Don't give up because your story isn't over yet and you don't know what your next chapter will hold. I will leave you with the words of the subject of this article about Adrian McKinty.
'My story is a story of never giving up, it's a story of writers helping others writers. I hope it inspires other writers who are thinking about quitting, to never give up. I never imagined any of this could happen, but I hoped it would. I had to hope. I am so grateful and I hope my story inspires others" - Adrian McKinty
About the Author
Mark Wager is the Chief Leadership Coach at the Australasian Leadership Institute. Originally from the United Kingdom but now calling New Zealand his home, Mark shows leaders across the Asia Pacific region how to influence, motivate and inspire their teams. Driven by a frustration of attending many ineffective workshops during his 30 year managerial career Mark has made his passion in life to redefine how leaders are trained.
Mark takes advanced psychological theories and makes them accessible to the modern leader regardless of their background, experience or industry, by developing customised Leadership workshops and individual coaching sessions that combine practical real-life scenarios with a mixture of British wit. Mark dispels the myth that there are certain Leadership skills that can't be learnt.
Leaders from some of the regions most prestigious organisations have been trained by Mark including the delegates of the European Union, Weta workshops, Amnesty International, Unicef, Barnados, St Johns, Red Cross, NZ Basketball, NZ Tennis, NZ Hockey, NZ Netball, NZ Rugby League, Ministry of Justice, Department of Internal Affairs, NZ Defence Force, the Fijian Broadcasting Corporation, The Fred Hollows Foundation, Sofitel resorts, Raddison Hotel Group, Te Whanau Waipareira and many more.
You can contact Mark via the enquiry form below
Posted: Tuesday 7 July 2020