The Australasian Leadership Institute

providing Leadership training for individuals, teams & organisations
For New Zealand, Australia & The Pacific Islands
?VAR>
There are many issues that face leaders today
- Teams not communicating effectively - New Managers lacking leadership skills
- Poor performance not being correctly addressed - Employees not being proactive - Unable to attract and retain talent - Lack of Executive presence (capacity to inspire) - Talented professionals not skilled at engaging & influencing their teams - Unable to empower and delegate appropriately - Trying to influence without authority -
Companies lacking an innovative winning culture

The Australasian Leadership Institute can solve these issues
Training Options
The Australasian Leadership Institute designs and facilitates customised in-house leadership programmes across the Asia Pacific region.
We deliver Leadership Development Programmes, MBTI Team Building and individual Leadership Coaching
all across New Zealand, Australia, Fiji, Samoa, Papua New Guinea and Timor-Leste.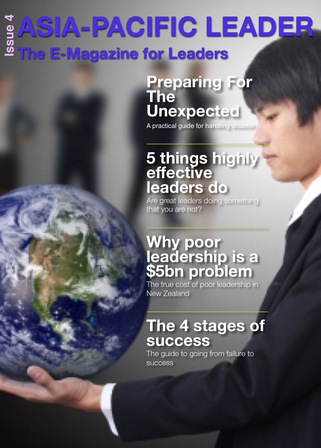 Free Leadership Magazine
Read the latest Asia-pacific Leader
magazine Issue 4 - online for free.
Testimonials
We were very pleased with the Leadership Workshop provided for our national management team here in Timor-leste. Mark tailored the content and materials of his workshop to the unique needs of the context and our organisation. We noticed immediate improvements in our managers interactions with staff and each other, in their eagerness to work as a team and in their overall attitude.
The next time I an in need of a consultant for leadership training, I will be calling upon the Australasian Leadership Institute and Mark Wager again
Dr Jerry Vincent
Clinical Education Advisor for Timor-leste