What Is Your Leadership Legacy?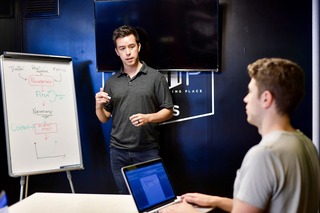 What is your leadership legacy?
By Mark Wager
If you are reading this article then there's a high probability that you are currently in a leadership position. This means you have already made the decision to influence people, to inspire people and to guide your team to success but ask yourself what halogens after that, after success?. At the end of the day how will you be measured as a leader? Will it be by how much profit you made for your organisation, how many products you produce or awards that you receive?
The role of a leader is to provide people with the belief and power to take them to a level that they've never been to before. This kind of empowering leadership is not measured by the amount of glory the leader receives. Leadership and ultimately the leader's legacy is measured by the quality of leaders that they produce. To value a leader's legacy look at the people they have inspired to start their own leadership journey and where that journey is taking them.
"I start with the premise that the function of leadership is to produce more leaders, not more followers" - Ralph Nader
One of the most successful Managers in the history of soccer is Sir Alex Ferguson the former Manager of Manchester United. During his 26 years at the club, he won 38 trophies, including 13 Premier League and two UEFA Champions League titles. Yet an achievement which is rarely mentioned is the number of players who played for Sir Alex who later went on to become Managers in their own rights. Currently there have been over 30 former players who have followed Sir Alex Fergusons path, all of whom have remarked on the influence that Sir Alex Ferguson had on their managerial career.
A true leader inspires others to become leaders.
Leaders inspire people to take action but it's the great leaders that inspire others to lead themselves. This is challenging as today's busy work environment requires leaders to focus on activities that will result in immediate results and activities that produce long term gains can easily become a low priority. Great leaders know that developing the next generation of leaders is not just a task it's an honour, leadership is not a position to be kept hold of. When you are a leader you are a caretaker of people's hopes and aspirations and that honour needs to be passed on. These leaders do three key things in order to develop a leadership legacy.
Believe in yourseof
One of the saddest things I see with some managers is the reluctance to develop others because of the fear that the person will end up taking their job. This kind of thinking is false and destructive to a team environment. If you develop others then three things start to happen. Firstly, the team becomes more motivated as they feel more valued. Secondly, they find that they have more freedom to do tasks and have more options to delegate and thirdly they become more highly regarded as a leader when people see the quality of the team. Some leaders stop developing their team due to a misguided survival mentality yet in fact developing the team is the perfect survival tool
Believe in others
Anyone who has ever led has had that special moment when someone believed in them enough to follow. Be that special person and tell people that you have faith in them and that you believe that they can become an inspirational leader. Create opportunities, no matter how small to demonstrate your faith in people. If you are away from the office then put someone in charge even if it's for a day. They may not have to do much but just the fact that you have shown faith in them to lead will inspire them to start believing in themselves .
Own failure and share success
Whatever happens within the team it's ultimately the responsibility of the Leader so when things go wrong it's the Leaders role to step forward and shield the team, this doesn't mean the team avoids criticism but that criticism stays within the team behind closed doors. On the other hand when the team achieves success that is when the Leader steps back and allows the team to receive the praise and glory. Winning is addictive so by allowing the team to enjoy the moment as much as possible it will provide the appetite for more success in the future.
Become a mentor
The journey of a new leader can be a lonely, one filled with many self doubts and mistakes. An offer of support and a few kind words and advice can make a great deal of difference and you don't have to wait to offer this advice. I remember a story of a former player of Sir Alex Ferguson who had started in management and his team had just suffered a humiliating 5-0 defeat. Sir Alex called him and told him to get into work early the following day, stand in front of his team and look them clearly in the eyes when talking. The advice was simple and brief but it was the right advice at the right time and helped the new Manager turn the results around.
A true leader realises that leadership is about many things but there is one thing it is not about and that is themselves. A leader is nothing without the courage of people who are willing to follow . Show gratitude for that courage by being courageous yourself and inspire them to be the next generation of leaders.
About the Author
Mark Wager is a Leadership Coach with over thirty years of managerial experience across a range of industries. A former Broker Sales Manager with a London Finance House and a National Manager for the Ministry of Justice Mark specialises in working with Leaders helping them overcome the barriers, both technical and mental standing between themselves and success.
A strong believer in taking complex leadership & psychological theories and making them accessible to people regardless of their background, education or industry Mark has helped develop Leaders from some of New Zealand's leading organisations such as Fisher & Paykel, Weta FX, Heartland Bank, NZRL, NZ Netball, NZ Soccer, NZ Basketball, Amnesty Int, Barnardos, Oxfam, Red Cross and many more.
Mark has limited availability for new clients so If you are serious about becoming more successful then contact Mark today.
Posted: Tuesday 21 March 2023