Life Lessons From Lionel Messi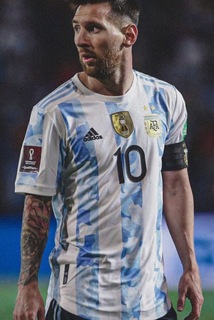 Life Lessons From Lionel Messi
By Mark Wager
The greatest player in the world has just won the greatest football tournament in the world. Lionel Messi at the age of 35 has led Argentina to victory in the World Cup Final in a remarkable display of skill, mindset and leadership. Even if you are not a fan of football you can still admire what he has achieved and how he has achieved his success because success leaves clues.
During my career I've trained many leaders, all with different backgrounds from a range of industries across a multitude of countries yet despite their differences there is always a clear pattern of behaviours that all successful people share which is why if you take time to study successful people you will find lessons that will help you on your own personal journey and there's very few people more successful than Lionel Messi.
Every generation has that one special footballer who out of the millions of footballers around the world, stands out as something special. For this generation, the greatest player in the world is Lionel Messi. Currently playing for Paris SG in France and more notably as Captain for the Argentinian national side, Lionel Messi has won the FIFA Ballon d'Or, the award given to the years best footballer in the world a record seven times the only player in history to achieve such an honour. Whenever we find excellence we can find lessons that can be useful in our own lives, so let's explore the lessons of excellence from Lionel Messi.
Life lesson: Follow your passion
"The only thing that matters is playing. I have enjoyed it since I was a little boy and still I try to do that every time I go out on the pitch. I always say when I no longer enjoy it or it's no longer fun to do it, then I won't do it anymore. I do it because I love it and that's all I care about." - Lionel Messi
When I coach people in business, I see a lot of people who have chosen assignments or even careers based on practical reasons such as money but it's rarely for enjoyment and it's in this decision that many mistakes occur. If you want to succeed at a high level you will have to work harder than anyone else and be prepared to overcome obstacles that make people quit. To stand any chance of succeeding as an entrepreneur you have to find what you are passionate about and then try to find a way to make a living out of it.
Life lesson: Control your ego - control your destiny
"I want to concentrate on winning things with Barcelona and Argentina. Then if people want to say nice things about me when I have retired, great. Right now I need to concentrate on being part of a team - not just on me" - Lionel Messi
With success comes adulation which in itself can lead you to have a false impression of your strengths and more concerning can create blindspots for your weaknesses. I see this a lot when I coach entrepreneurs. They start believing the perception that people have of them and stop listening to advice that they would have cared about until that stage. A little success can be a dangerous thing for the ego. What Lionel Messi does is that he never seems to let success get to him and appears to remain humble in circumstances that the majority of people can not imagine.
Life lesson: Hard work beats talent
"You have to fight to reach your dream. You have to sacrifice and work hard for it." - Lionel Messi
Just being talented isn't enough. You have to possess the will and determination to overcome any obstacle that comes your way. At the age of eleven, Lionel Messi was diagnosed with growth hormone deficiency which led to him being signed by Barcelona as his club at the time because River Plate were unwilling to pay for his treatment. At an early age he had to leave his home and country behind to pursue his dream in a foreign country, all this at the age of eleven. The question you need to ask yourself as an entrepreneur is what are you willing to sacrifice?
Life lesson: Success is a collective endeavour
"When the year starts the objective is to win it all with the team, personal records are secondary." - Lionel Messi
Whenever Lionel Messi is reminded about achieving a new record or milestone he always refers back to the contribution of his teammates and that all records are secondary to the team's objectives. No one achieves greatness on their own and even if you are a solo entrepreneur you will need people to help you succeed. Whether you want to or not you will always be part of a team. Success is achieved and maintained when you are able to identify your contribution to that team and understand how your role interacts with the roles of others in order to achieve glory. This will not only give you more success but also keep your ego under control so you will never forget that the team is more important than yourself.
Life lesson: Focus on the goals, the right goals you need to achieve today
"Goals are only important if they win games" - Lionel Messi
One of the many things that separates Lionel Messi from his counterparts is his mental focus on the pitch. He is able to apply his whole mental focus towards the present and what he needs to do in order to succeed now, not tomorrow or yesterday but now. Having this mental focus is vital for success. All too easily we can get sidetracked by thinking about what could be and what could have been. The past and future tempt our thoughts away from where they need to be and that is the only place that matters, the present. It's in the present that you can focus on what you need to do right now in order to make the future you want.
Life lesson: Never stop being hungry for success.
"I always want more. Whether it's a goal or winning a game, I'm never satisfied" - Lionel Messi
Despite all the trophies and awards Lionel Messi is still hungry for more. It's this hunger that successful people share, the realisation that your journey doesn't end when you reach the top of the mountain because there are no heights to reach. When an entrepreneur achieves success they should celebrate their achievement but they never should forget that the celebration is for the one journey that has ended and now it's time for the new journey that is about to start.
Lionel Messi will go down in history as the greatest footballer of his generation and most likely the greatest that has ever played the game and while our own personal ambitions may not reach such incredible heights we can still take the lessons that greatness shows us so that we can achieve greatness ourselves.
About the Author
Mark Wager is a Leadership Coach with over thirty years of managerial experience across a range of industries. A former Broker Sales Manager with a London Finance House and a National Manager for the Ministry of Justice Mark specialises in working with Leaders helping them overcome the barriers, both technical and mental standing between themselves and success.
A strong believer in taking complex leadership & psychological theories and making them accessible to people regardless of their background, education or industry Mark has helped develop Leaders from some of New Zealand's leading organisations such as Fisher & Paykel, Weta FX, Heartland Bank, NZRL, NZ Netball, NZ Soccer, NZ Basketball, Amnesty Int, Barnardos, Oxfam, Red Cross and many more.
Mark has limited availability for new clients so If you are serious about becoming more successful then contact Mark today.
Posted: Monday 19 December 2022