4 Leadership Lessons From The Best Football Managers In The World
4 Leadership Lessons From The Best Football Managers in The World
By Mark Wager
While there is an ongoing debate about which football league in the world is better, there can be no doubt about which football league has the best Managers. The English Premier League is now the home of some of the most successful and highly regarded Managers in the world. Pep Guardiola at Manchester City, Jose Mourinho at Manchester United, Jorgen Klopp at Liverpool, Antonio Conte at Chelsea and the current Manager of the Premier League champions Claudio Ranieri are just some of the names that will be competing for the title this season.
Each of these great Managers will be utilising all their knowledge and experience to lead and inspire their teams to success and when they do this they will leave behind lessons for those of us who have a fundamental desire to become a better leader. Even if you are not a football manager yourself, the lessons you will see this season will help you no matter what industry you are working in. I'm an International Leadership Coach and I have the honour of developing leaders in different countries and vastly different industries and what has become apparent during my journey is that despite how different and unique each industry and team is, the core principles of successful leadership are the same regardless of the industry. How those principles are applied vary based on the industry and makeup of the team but the core principles apply. The leadership principles that has delivered continued success to a football manager will also work in any other industry.
While we eagerly wait for this season to unfold and deliver more valuable leadership lessons we can take time to digest some leadership lessons these great managers have already delivered.
Align personal ambition to team objectives - Jose Mourinho
Jose Mourinho knows that human beings at their fundamental core are selfish, and while they will work hard for others they will sweat blood and tears for themselves so whenever Jose Mourinho starts at a new club he writes to all the players informing them that football is a collective effort and he expects every player to align their personal ambition to the teams mission and every decision he makes will be in the best interest of the team. He offers each player a deal, if they commit to his philosophy which will bring the team success then he will do everything within his power to bring success to the individual. By aligning the individual ambition to the teams objectives Jose Mourinho creates a clear line of motivation which enables him to create the ideal environment for team success which is a combination of high stakes and high belief. The team has goals that are so high that they seem just out of their reach but also the belief that these goals are obtainable.
Define the essence of the team - Pep Guardiola
Organisations I work with are now becoming more aware that an important element of motivation within a workplace is the need to identify and promote the fundamental reason for the organisations existence or the "why" yet Pep Guardiola has taken this a step further by aligning a belief system to the organisations "why". At both Barcelona and at Bayern Munich Pep Guardiola didn't just get his players to buy into the mission but into a particular way of playing. Barcelona always had a reputation for playing with flair and Bayern Munich had a reputation for ongoing domestic success yet for both clubs winning was no longer enough, they had to win with a certain style, winning with a sense of identity was the clubs "why". Pep Guardiola was able to articulate this to the players and get them to buy into his belief system of an emphasis on possession football. So while the "why" created motivation within the club it was his belief system that established loyalty and trust between the players and the Manager.
Brotherhood is more valuable than money - Claudio Ranieri
Leicester city achieved the seemingly impossible by winning the Premier League last season. In a league that is traditionally dominated by money, Leicester City's wage bill of $57m a year puts them 15th in the league table of highest salaries and way behind Manchester United wage bill of £220m. What Claudio Ranieri achieved was to make each player play with a level of passion that money couldn't buy and a commitment to fight for each other. Leicester City's Captain, Wes Morgan, described his team-mates as "like brothers" and Manager Claudio Ranieri spoke of the players as being like his sons. This passion is wanted by all teams but is achieved by very few but Claudio Ranieri knows the secret of brotherhood. The secret of getting people to put others ahead of themselves is in fact a selfish endeavour. This may seem paradoxical but the strongest human instinct is the instinct for self preservation. We are wired to survive and we survive by being a pack animal, we are drawn to be part of packs in order to ensure survival especially if that pack provides us with a level of significance that we can't obtain as an individual. Once established people will fight to remain as part of that pack.
Every moment of pressure is an opportunity for greatness - Jurgen Klopp
Jurgen Klopp has one if the most challenging jobs in football. At Liverpool he has a club with a rich and successful tradition which has created an expectation for success both domestically and in Europe yet he currently has a group of players who are unable to live up to those expectations. It's a high pressure situation that would crush many Managers yet while others see pressure Jurgen Klopp instead sees an opportunity for greatness. This successful mental approach was demonstrated clearly last year in the quarter-final of the European Cup. Liverpool were playing Borussia Dortmund and at half time Liverpool were 2-0 down and needed three goals in the second half in order to win. During his half time talk Jurgen Klopp turned a negative situation into a highly positive one by focussing on the opportunity. He urged the players to create a moment to tell their grandchildren about and make a night that the fans would never forget. The team then went out to play the second half and ended up winning 4-3 and therefore booked a place in the semi-finals. Jurgen Klopp understands the psychology of leadership and understands that high performance occurs when people are in a positive state so he stopped his players focussing on the negative and instead turned the scenario into a positive one.
The Spanish league may have the best players in the world in the form of Lionel Messi and Cristiano Ronaldo but the best Managers are in the English Premier League and while they remain here the Premier League will provide, alongside great entertainment every week, valuable leadership lessons that will help every ambitious Manager regardless of their industry.
Image courtesy of KROMKRATHOG at FreeDigitalPhotos.net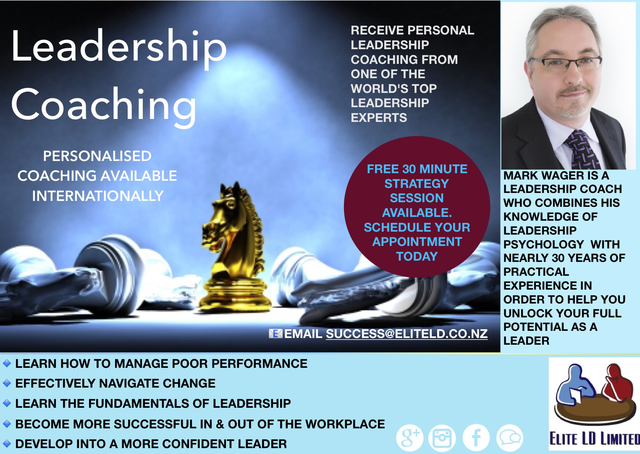 Posted: Saturday 13 August 2016