Are You Missing Out On The Next Big Thing?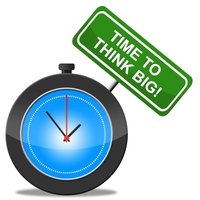 Are You Missing Out On The Next Big Thing?
By Mark Wager
In today's competitive market every company is looking for every advantage they can find. Finding that next big idea that can improve efficiency, save money or produce a new product. Its these kind of ideas that can make a huge difference to any company. It could be the difference between being a market leader and going out of business. Companies are so focussed on finding these new ideas could they are actually in fact missing ideas that are right in front of them. Is your company missing out on the next big thing?
At the time of writing this article, the number one movie in cinemas is "The Martian" starring Matt Damon. "The Martian" is based on the book of the same name by Andy Weir. This book was overlooked by every publisher. Not wanting to give up, the author started to publish the book chapter by chapter on his website for free. This idea was a hit with fans and lead to publishers revisiting the book which in turn lead to a Hollywood blockbuster. All of this was missed by many people who were looking for the next big thing.
When Oprah Winfrey delivered a talk at Stamford University she recalled his first big break as a chat show host. In 1978 Oprah was co-hosting the news on a small television station called WJZ-TV in Baltimore. Oprah was considered to be poor at her job but the station couldn't afford to fire her so they moved her to a failing talk show called "People are talking" The show became a surprise hit and Oprah was offered a new show in Chicago. It was then the most successful chat show in the history of television, and the Oprah Winfrey show was born. Today Oprah Winfrey is worth over $3 billion. A company that was desperate for the next big thing missed the opportunity of the biggest show in TV.
In 1962 two bands auditioned for Decca records. The Senior talent spotter Dick Rowe and his junior colleague Mike Smith had to chose between the two bands. They signed a band called the Tremeloes, mainly because they were based in Dagenham close to the record label and that they considered guitar bands to be on the way out. The band they turned down were the Beatles who went on to become the most famous and successful band in music history. A company that was looking for the next big thing missed it when it was right in front of them.
Ideally regarded as one of the biggest commercial mistakes in history belonged to the president of Western Union,William Orton who in 1876 decided not to pay $100,000 for Alexander Graham Bell's patent for the telephone. William Orton wrote to the inventor stating that "while it is a very interesting novelty, we have come to the conclusion that it has no commercial possibilities. Just over two years later Orton admitted the mistake and believed that the patent was worth more than $25m. Today the value is priceless
The next big thing that will change the fortunes of your company is already in existence. It's waiting for you to find it but you have to be open to the idea of embracing it. By that I mean every person has their own set of biases that influence how they receive information. These biases are formed by a lifetime of habits, beliefs and experiences and they come to life in every conversation you have. If you believe that a small time inventor couldn't make something that would change history then you won't recognise the invention of the phone. If you believe that guitar bands are on the way out then you won't see a band that changed music forever. If you believe that a newscaster can't connect with her audience then you won't recognise the opportunity to have the most successful Tv talk show of all time. If you believe that a first time writer is unable to produce a Hollywood blockbuster then you will miss out on the number one movie at cinemas today.
The truth about discovering the next big thing is simple. You will never find it until you believe that it exists. Once you believe then you will see it when it presents itself to you. So the next time someone presents you with an idea, don't dismiss it. On the other hand take time to look at it with an open mind because if you don't, one day you may miss out on the next big thing.
About the Author:
Mark Wager is a Leadership Coach who specialises in developing strategies and practical tools in order to turn Managers into inspirational leaders. Mark provides a free 20 minute strategy session for anyone in New Zealand, Australia or the pacific Islands. The purpose of this session is to clarify your goals and identify what you need to do in order to achieve those goals. Mark can be contacted via the enquiry form below.
Image courtesy of Stuart Miles at FreeDigitalPhotos.net
Posted: Monday 26 October 2015