Leadership Training For Management Teams
Leadership Training For ManagementTeams
Leadership training for management teams, available in Auckland, Wellington, Christchurch, Hamilton, Napier, Hastings, Tauranga, Dunedin, Palmerston North, Nelson, Rotorua, New Plymouth, Whangarei, Invercargill, Whanganui & Gisborne. Management training can also be arranged to be delivered in Fiji and Australia.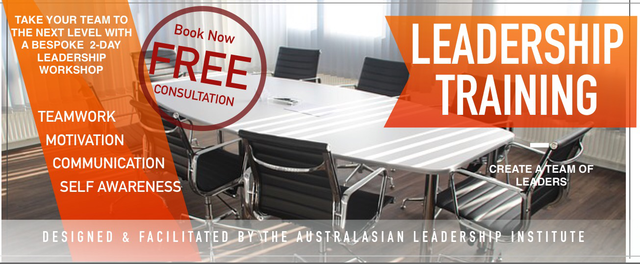 If you want your team to take its standard of performance to the next level then contact us to discuss how a leadership workshop can make this happen.
1 and 2 day options are available

In-house and residential options available
This type of training is highly interactive and combines the latest research in leadership with practical techniques that you can implement immediately.
Key benefits:
Learn practical skills that the participants can immediately apply within their workplace




Discover how leading organisations create a successful work environment




Enhance levels of motivation and commitment




Participants will become aware of their own personal leadership strengths and weaknesses




Certificate of completion




Case studies of how other leaders managed to take their teams performance to a higher level.




The ability to maximise your organisation's major asset: its people




Work alongside a facilitator that is internationally recognised as a leadership expert




A FREE follow-up coaching session to ensure that learning can be applied in the workplace
Te Whânau o Waipareira
"Lots of relevant pearls of knowledge gained. The training was exceptional, thank you so much"
Huia Busby, General Manager, Te Whānau o Waipareira
Fiji Broadcasting Corporation
This workshop was very informative. We were able to freely discuss issues that we face in our daily work life and commitment we have made to address it. We have also set timeframes for addressing this as well"
Vimlesh Sagar, General Manager, Fiji Broadcasting Corporation
Capital Kids Childcare
"Marks workshops have helped our team to unpackage their personalities and work through communication barriers. His support and knowledge has been invaluable"
Dian Johnson, Manager, Capital Kids