Why Leaders Need People To Disagree With Them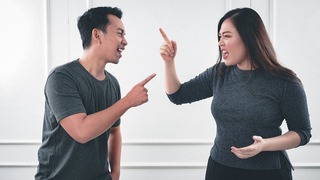 Why Leaders Need people to disagree with them.
By Mark Wager
Leadership coaching now available via Zoom
I was working with a company last week where both the Manager and the team weren't happy with each other. The team felt that the Manager wasn't listening to them and wasn't even interested in their opinions while the Manager felt that these accusations were silly because he actually thought the opposite was true. He wanted peoples' opinions but no one would ever say anything during their meetings. He was just greeted with a wall of silence. Both parties were unhappy with seemingly two different issues but in reality what I quickly found out was that it was the same issue. Once identified, it was quickly resolved. They were trying to discourage disagreements when in fact they needed to encourage disagreements.
Conflict is something that teams tend to avoid but the most successful teams I have worked with welcome conflict as long as it's done in a respectful manner and with the best interests of the team in mind. The best Leaders surround themselves with people who disagree with them.
It's healthy to disagree.
I was watching a documentary recently called "All or Nothing: The New Zealand All Blacks". The documentary takes us behind the scenes to look at how the All Blacks operated during last season. In the opening episode, there was a scene which caused quite a bit of debate because of an open disagreement between the All Blacks Coaches.
During one of the final training sessions prior to the first test against the British and Irish Lions, the All Blacks Coach, Steve Hansen, turned to one of his coaches, Ian Foster and mentioned that Reiko Ioane should play on the left wing and All Blacks regular Julian Savea should be switched to the right wing. Ian Foster replied that "it's a dumb call today... I think it's a ridiculous idea." The disagreement and conflict between the two coaches was obvious. History proved that the decision was a correct one as Reiko Ioane scored two tries in the first test and ended the year winning the World Rugby's breakout star of the year award. I've read several articles expressing surprise about the conflict between the two coaches but in my experience this is extremely common in successful teams.
Any form of conflict including a disagreement of opinions is something that people tend of avoid which is completely understandable, yet people generally don't want to disrespect other people, especially people in authority and people don't want to argue either if they can avoid it. High performing teams like the All Blacks view conflict in a very different way. When I work with high performing leaders they want to be challenged, they don't see disagreement as disrespectful, in fact they see it as the opposite. When people disagree, they see it as a sign that they are respected enough for people to be honest with them.
Respect people enough to ask for their opinions
When I visited the team last week it became clear that even though the Leader genuinely wanted his team to speak up he was unknowingly encouraging them not to because anytime anyone questioned a decision or raised objections the Leader's automatic response was to either dismiss the suggestion or question why the individual was being negative and not a team player. This approach by the Leader encouraged the team to say nothing and just agree which is what they reluctantly did. Remember as a Leader it's not what you say it's what people hear that matters. The Leader in question thought he was encouraging consultation but what the team was hearing was validation.
Have the courage to listen to what people say.
As a Leader if you ask people for their opinions then you need to respect what they have to say even if you disagree with them. You need to encourage people to speak up because in order to make the right decisions you need all the information you can get your hands on and that includes opinions from people who see the situation differently. In the All or Nothing documentary series, All Blacks Coach Steve Hansen talks about his relationship with his coach Ian Foster who he calls by his nickname "Fozzy" Steve Hansen said "Fozzie is the yin to my yang I suppose, he's very thoughtful whereas at times I can be a little bit impulsive." The best leaders can see a situation from all sides and this can only be done when people around the leader are comfortable and have permission to make the leader aware of different opinions and views.
Have the humility to question if you are right.
As a Leader, there will be times like the one with Steve Hansen when they are right even though others might initially think they are wrong yet there will also be times when the Leader is wrong and it's the people around them that are right. Leaders are ultimately judged by the quality of the decisions they make and the best decisions are made after robust debates where different viewpoints are presented and considered. It's important to note that this scenario doesn't come naturally and the responsibility rests with the Leaders to create an environment within which people feel comfortable speaking up and that starts with the Leader having the humility to admit that they may not always be right.
If you want to be a Leader with a high performing team like Steve Hansen was when he was with the All Blacks then surround yourself with people who care and respect you. Make sure they care for you enough in order to want you to be the best version of yourself and they respect you enough in order to feel comfortable to share an opposing opinion. Achieve this and you will be on your own personal track to success.
Posted: Wednesday 6 April 2022