Performance Coaching
Performance Coaching available in Auckland, Wellington, Christchurch, Hamilton, Napier, Hastings, Tauranga, Dunedin, Palmerston North, Nelson, Rotorua, New Plymouth, Whangarei, Invercargill, Whanganui & Gisborne. Performance Coaching can also be arranged to be delivered in Fiji, Australia and the Pacific Islands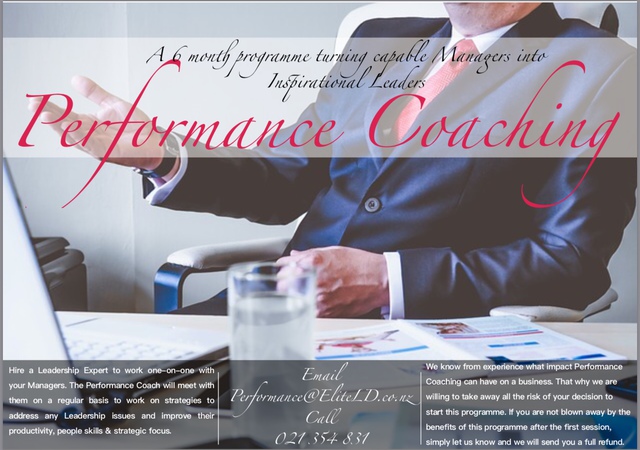 Do you have a Manager who is not fulfilling their potential?
The Managers ability to influence, motivate and inspire is a significant factor in their teams level of productivity. A Performance Coach will explain the tools and techniques required to create a highly motivated work environment
Is there miscommunication between the Manager & the team?
A recent survey has shown that the biggest complaint that staff have about their Manager is a lack of effective communication. A Performance Coach will use the 4 Quadrant Communication Model™ to explain how communication can be improved and misunderstandings avoided.
Have you recently appointed a new Manager?
It can be daunting to become a Manager for the first time. Working with a Performance Coach can dramatically reduce the learning curve by providing mentoring, support and practical advice on how to become an effective Manager.
Zero Risk Coaching
We know from experience what impact Performance Coaching can have on a business. That why we are willing to take away all the risk of your decision to start this programme. If you are not blown away by the benefits of this programme after the first session, simply let us know and we will send you a full refund.