LEADERSHIP COURSES
⭐️AUCKLAND
13th and 14th October 2015
THE ELITE GUIDE TO LEADERSHIP 2-DAY WORKSHOP
Regus, Level 10, 21 Queen Street, Auckland CBD
10:00 - 4:00
$650 PER PERSON
18th August 2015
LEARN HOW TO MANAGE CONFLICT
Regus, Level 10, 21 Queen Street, Auckland CBD
10:00 - 4:00
$230 PER PERSON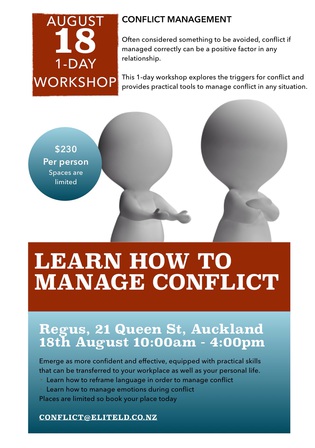 ⭐️WELLINGTON
16th September 2015
EMERGING LEADERS 1-DAY WORKSHOP
Level 15, 171 Featherstone Street, Wellington CBD
10:00 - 4:00
$650 PER PERSON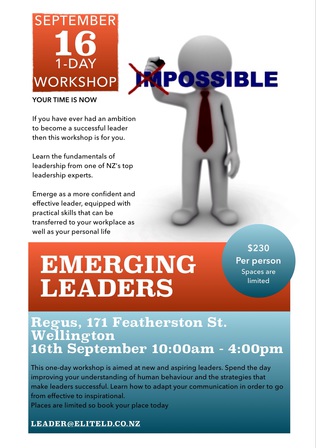 18th September 2015
HOW TO CREATE AN EFFECTIVE TEAM
Level 15, 171 Featherstone Street, Wellington CBD
10:00 - 4:00
$230 PER PERSON
22nd September 2015
LEARN HOW TO MANAGE CONFLICT
Level 15, 171 Featherstone Street, Wellington CBD
10:00 - 4:00
$230 PER PERSON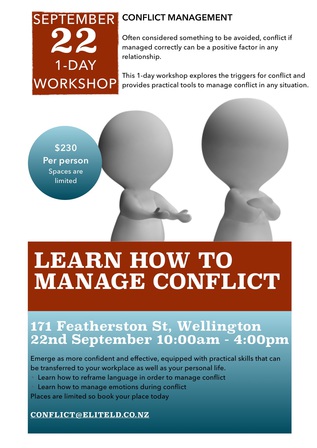 The Facilitator
The lead facilitator is Mark Wager who has been in Managerial roles for twenty five years in different countries across a range of industries. He currently owns his own company that specialises in developing leaders and team building. His clients range from international organisations such as The European Union through to local companies such as KMart and Foodstuffs.
Mark is an author and has had articles published in magazines like M2, NZ Management and Lifestyle for Men magazine. Mark is currently listed as one of the hundred leadership experts in the world to follow on Twitter. Mark's current book The Elite Guide To Leadership is available to buy at Amazon.
Next Steps
Let me know if you have any specific questions and someone will give you a call to answer. To book your place just complete the enquiry form below and an invoice will be forwarded to you which upon payment your place will be confirmed.